Firewall

Firewall is a network security system that establishes a barrier between a trusted, secure internal network and another outside network that is assumed not to be secure.
It blocks any abnormal traffic or threats from the outside and allows normal traffic
Juniper SRX Series

Cisco Firepower Series

Fortinet FortiGate Series
Features

Shared firewall
Private Firewall
Bandwidth
up to 5Mbps
5Mbps~100Mbps
Firewall
shared
Private
Port limitation
Yes
Yes
Monitor/Control
Yes
24/7 performance monitoring
Remote update
Remote control for firewall system
Real-time log backup
3 months
Notification for vulnerability and technical information
On demand
Monthly service report
Security vulnerability analysis
Security consultation
Monthly service report
Security vulnerability analysis
Security consultation
Network outage/performance monitoring
· Breaking in open port is not guaranteed
·For service port 80, customer must additionally use web firewall service
·Customers are responsible for any configuration they set (ie. Rule set).
· During maintenance or replacement of firewall device due to failure, the service can be ceased for a while
· Monthly monitoring report will be provided only when there was troubles upon customers' request
Notice

Firewall service is for KINX IDC customers only.
Please consult any details with sales representatives. Fees may be charged on additional request
(Contact 02-526-0900 / sales@kinx.net)
Firewall Service
Diagram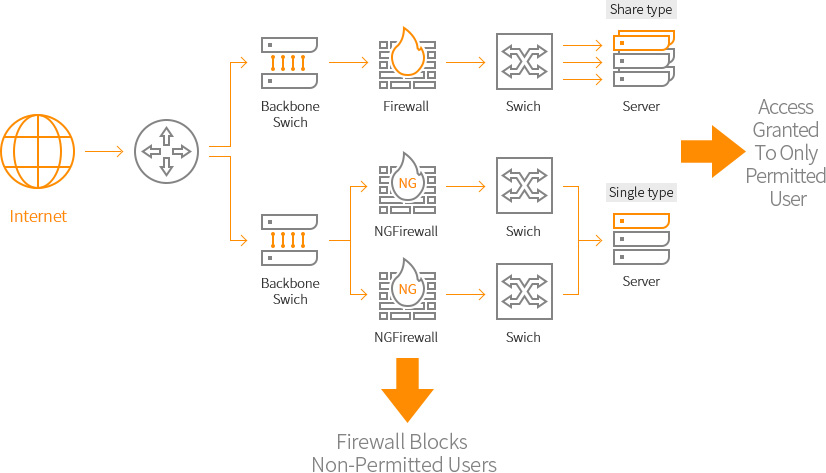 24/7 Monitoring
Service

Do you have the world class machines and solutions for your service but no professional engineer? KINX will provide you 24/7 monitoring service with professional engineers who can handle with any emergency situations on your network.
Items
Content
Integrated Monitoring
24/7 Network Performance Monitoring
24/7 System Performance Monitoring
24/7 Security events monitoring
24/7 Service outage monitoring and responding
Proactive and real time response
Network presensing and handling
Respond to evasion with two-level team
Consistent support from declaration to completion
CERT Team
Analyze trend about new internet vulnerability information in the world
Real time change amount analysis(level of risk)
Registration of signature about the information of vulnerability on service port
Reporting Service
Monthly report
Report on service outage and processing report
Help Desk
Security technique support
Receives customers service improvement requests
For inquiries
about
Firewall