A Network for Direct Connection to Tencent Cloud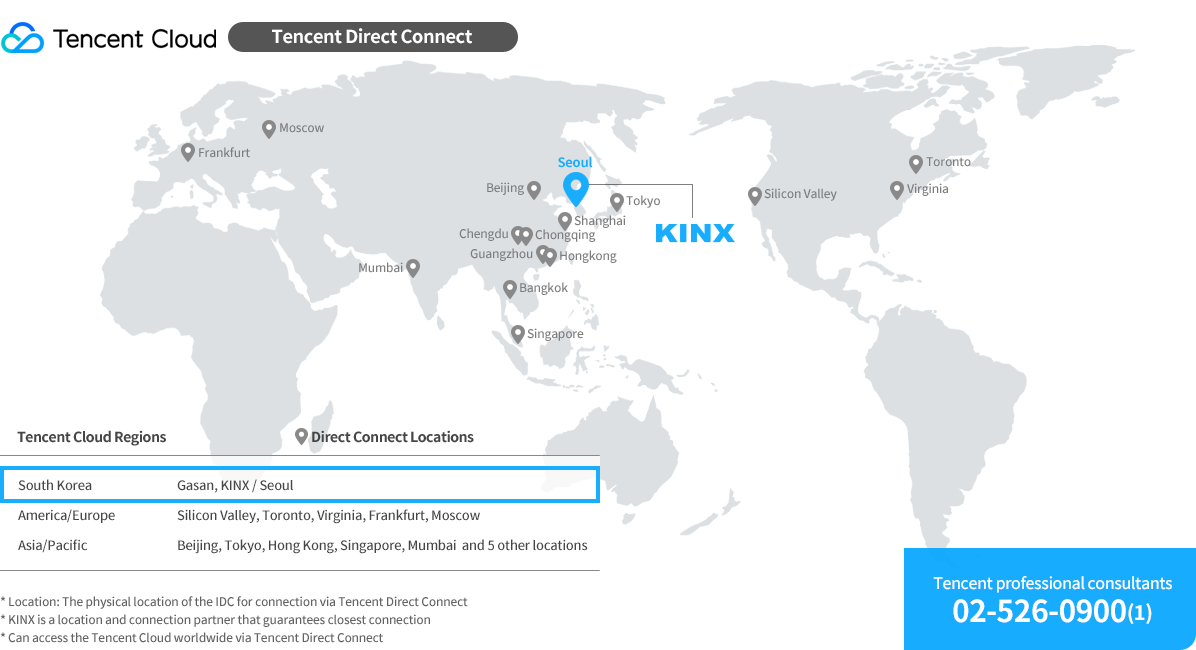 Tencent Direct Connect
Your service resources can be connected to Tencent Cloud via a dedicated line for fast and reliable services. Through a direct connection to Tencent Cloud, you can readily access the computing resources of Tencent Cloud in multiple regions at once to create a flexible and reliable hybrid cloud.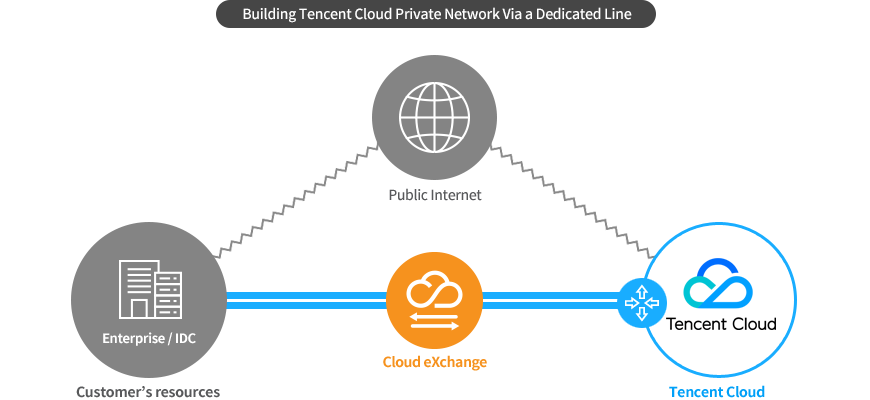 Tencent Direct Connect is recommended in these cases

To transfer large amounts of data between on-premises and Tencent

· Companies that generate and use big data
· Companies that back up their data regularly

To ensure speed and stability in transferring data between on-premises and Tencent

· Companies that use a private cloud and Tencent as a hybrid cloud
· Companies where there is frequent communication between the on-premise resources and Tencent

To cut network costs

· Companies that are charged excessively to transfer data to Tencent
· Companies where there are frequent data transfers between the service resources and Tencent
Reasons for Choosing KINX's Tencent Direct Connect
KINX offers the best Tencent connection environment through Tencent Direct Connect.
We are connected to Tencent Direct Connect over the shortest distance.

KINX IDC is a Tencent network location and the Tencent Direct Connect Routers are located within KINX IDCs.

You can select a KINX IDC located in the Seoul National Capital Area.

Can use an IDC located in Dogok, Gasan, Bundang or Sangam

We provide all-in-one services from A to Z.

Initial consulting, network configuration support, a dedicated line between your company and our IDC, etc.

We provide diverse ports ranging from 50M to 10G.

Select the port of your choice - 50M, 100M, 200M, 300M, 400M, 500M, 1G, 10G

We boast unparalleled competency when it comes to global network operation.

Korea's one and only IX operator recognized by the world
Extensive experience in providing a network to major ISPs in Korea, global carriers from overseas, CPs and CDN operators
Configuration

Tencent Direct Connect provides connectivity at low cost by using KINX's lines that are already connected. This service can be chosen when setting up a hybrid cloud or multi-cloud or when using the network for large data transmission and transmission quality management.
Colocation service (KINX IDC) + Tencent Direct Connect
Colocation at KINX IDC and Tencent Direct Connect

Dedicated line + Tencent Direct Connect
Tencent Direct Connect service is provided by connecting the customer's service resources (on-premise, colocation at another IDC) and KINX IDC via a dedicated line

Advantages
Security
It is possible to protect critical business data by controlling all the network paths and avoiding exposure to the public Internet.

Transmission Quality
Large amounts of data can be efficiently interconnected through a direct network connection, and stable transmission quality is ensured.

Backup/Storage
With a dedicated network connection, it is possible to back up or store large amounts of data at the data center quickly and reliably.

Cost
By using various ports ranging from 50Mbps to 10Gbps in speed, higher efficiency can be achieved at a lower cost compared to using a general line.

How to Use

STEP 1. Preparation for Use
- Create a Tencent Cloud account
- Check the speed of the port (50Mbps~10Gbps) you wish to connect
- Request a dedicated line, if necessary, when signing up for the service
STEP 2. Configure the interconnection between Tencent and KINX
- Form a physical line connection with Tencent DX
- Bandwidth and VLAN ID assignment
STEP 3. BGP routing and on-premise connection
- Configuration of settings for BGP connection
- Routing configuration
STEP 4. Connect to the service using Tencent Direct Connect
Using the Cloud Services of Multiple Service Providers?
Then, be sure to check out CloudHub CX that allows you to use multi-cloud via a single line. You can build a dedicated network of multiple clouds such as AWS and MS Azure using a single line. By using CloudHub, you can use a variety of services in a fast and reliable network environment and even save money.
Learn More About CloudHub®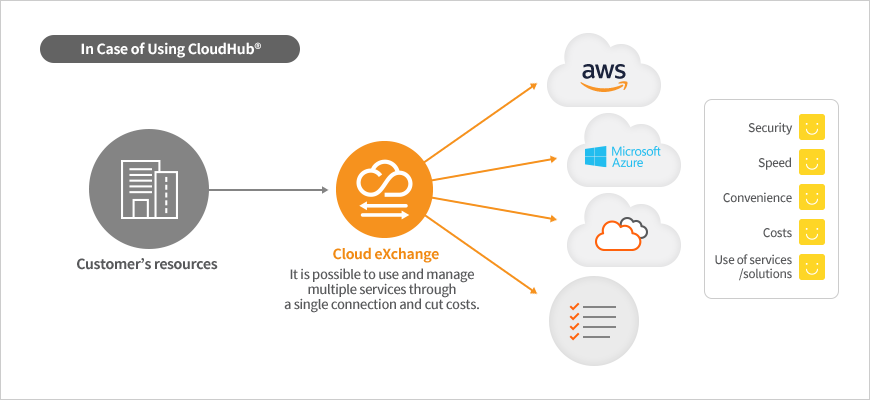 For inquiries regarding the
Tencent Direct Connect