A Network for Direct Connection to Naver Cloud Platform
NCP Cloud Connect
NCP Cloud Connect is a service that provides a dedicated cloud connection for direct communication between the customer's on-premises resources and the Naver Cloud Platform(NCP). Communication over a dedicated line simplifies data transfers and enhances security and speed. Plus, you can enjoy the scalability and cost efficiency of a public cloud at the same time, as it provides an effect of data center expansion through high throughput and low latency.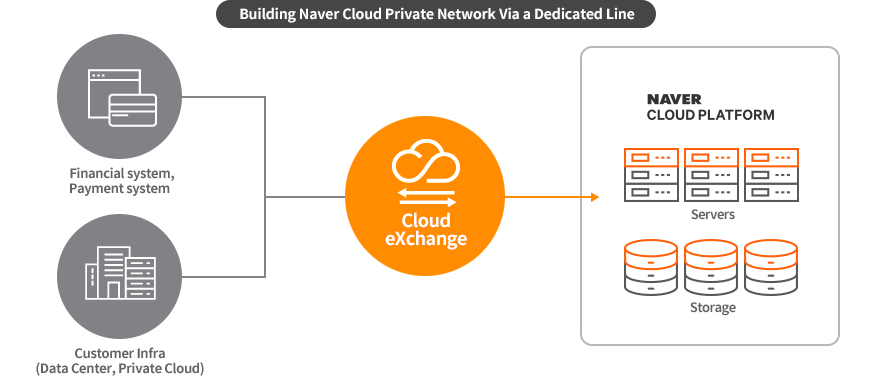 NCP Cloud Connect is recommended in these cases

Fast and Reliable Private Connection
Cloud Connect (CC) enables private connections between on-premise resources and the Naver Cloud Platform. It is characterized by high reliability and low latency, as it does not use the Internet.

Use of Cloud for Storage, Backup and Recovery
CC provides fast and reliable connectivity, enabling flexible responses to various scenarios such as disaster recovery and high availability strategies.

Data Center Expansion
It provides the effect of data center expansion based on high throughput and low latency. This means you can enjoy scalability and cost efficiency through a broad range of Naver Cloud Platform services.

Consistent Network Performance
Unlike the Internet environment, where it is difficult to guarantee network quality, CC utilizes dedicated connections and ensures consistent performance by using data and data routing.
Configuration

NCP Cloud Connect supports port speeds from 56Kbps up to 10Gbps. Cloud Connect Location provides connectivity at low cost by using KINX's connection that are already connected. This service can be chosen when setting up a hybrid cloud or multi-cloud or when using the network for large data transmission and transmission quality management.
Colocation service (KINX IDC) + NCP Cloud Connect
Colocation at KINX IDC and NCP Cloud Connect
* Cross Connect between the customer's colocation rack and the NCP Cloud Connect router
Dedicated line + NCP Cloud Connect
NCP Cloud Connect service is provided by connecting the customer's service resources (on-premise, colocation at another IDC) and KINX IDC via a dedicated line

* Cross Connect between the dedicated line inlet on the customer side in KINX IDC and the NCP Cloud Connect router
Advantages
Security
It is possible to protect critical business data by controlling all the network paths and avoiding exposure to the public Internet.

Transmission Quality
Large amounts of data can be efficiently interconnected through a direct network connection, and stable transmission quality is ensured.

Backup/Storage
With a dedicated network connection, it is possible to back up or store large amounts of data at the data center quickly and reliably.

Cost
By using various ports ranging from 56Kbps to 10Gbps in speed, higher efficiency can be achieved at a lower cost compared to using a general line.

How to Use

STEP 1. Preparation for Use
- Create a Naver Cloud Platform account
- Check the speed of the ports (56Kbps~10Gbps) you wish to connect and the number of connections
- Request a dedicated line, if necessary, when signing up for the service
STEP 2. Configure the interconnection between NCP and KINX
- Form a physical line connection with NCP Cloud Connect
- Bandwidth and VLAN ID assignment
STEP 3. BGP routing and on-premise connection
- Configuration of settings for BGP connection
- Routing configuration
STEP 4. Connect to the service using NCP Cloud Connect
Using the Cloud Services of Multiple Service Providers?
Then, be sure to check out CloudHub CX that allows you to use multi-cloud via a single line. You can build a dedicated network of multiple clouds such as AWS and MS Azure using a single line. By using CloudHub, you can use a variety of services in a fast and reliable network environment and even save money.
Learn More About CloudHub®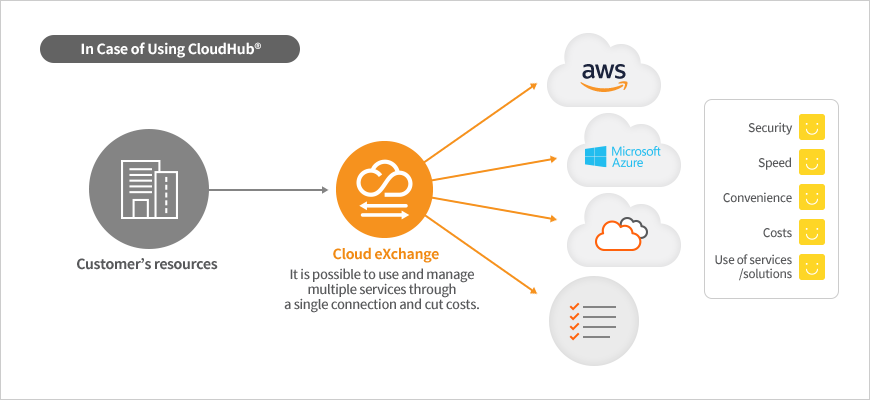 For inquiries regarding the
NCP Cloud Connect