Server Migration Consulting and Stabilization Support
Migration

This is a service that allows you to migrate your resources from an on-premise environment or a third-party cloud to IXcloud worry-free. The OS and applications installed in the existing server environment can be migrated all at once without the need for reinstallation. We provide complete migration services from consulting to service stabilization using a migration solution optimized for our cloud environment.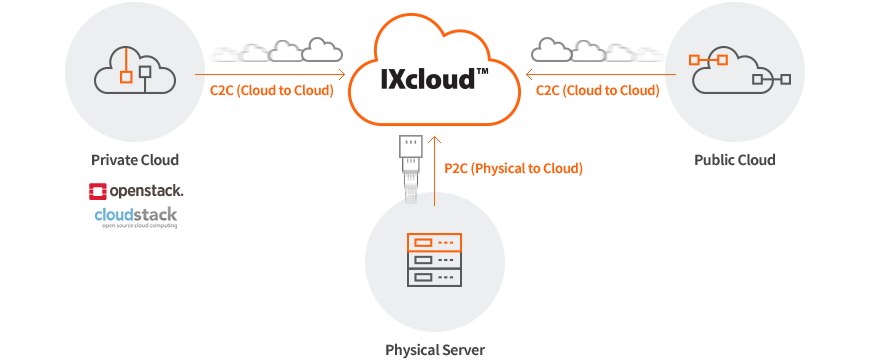 Procedure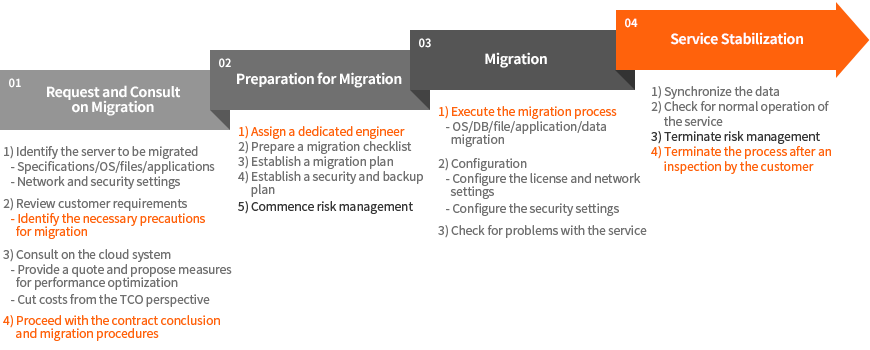 · Risk management

Advantages
P2C(Physical to Cloud) and C2C(Cloud to Cloud) Support


Seamless migration is also possible even from physical servers and public servers such as AWS.

Wide Range of Migration Services


We provide Linux(Ubuntu, CentOS), Windows OS, application and database migration services.

Even Those Who Are Not Familiar with Migration Can Rest Assured of Safety


We assign a specialized engineer to provide consulting, migration and service stabilization services.
Supported OS and Prices
OS Types
Supported (O/X)

Windows

Windows Server 2003/2003 R2 (x86, x64)

○

Windows Server 2008/2008 R2 (x86, x64)

○

Windows Server 2012/2012 R2 (x64)

○

Linux

Ubuntu 9.x~16.04

○

CentOS 5.x~7.3

○

Debian 4.x~8.5

○

Fedora 11.x~23

○

DB, Advanced applications

○
* The migration service fee is determined separately.
* There are no additional fees charged for consulting or technical support. Estimates are based on the number of servers subject to migration and the OS version.(Additional charges will apply if the disk capacity exceeds the standard capacity.)
Recommended to

Companies considering migration from the existing infrastructure to a cloud environment

Companies wishing to complete the complex migration process more conveniently
Companies who find the typical migration costs too expensive
For inquiries regarding the
Migration