The speed gets faster more than twice
Who needs it?

Mobile game enterprise who needs more stable and faster network communication

Enterprise who manage mobile app/web through all over the world
Enterprise and shopping mall who manage the hybrid application with one platform which is not divided into the each app for PC and mobile

Enterprise who needs improved speed of images and videos on advertisement in the external network server
Mobile express has
Mobile device has various types and display size. Since the user moves, there is also 'Dead zone' phenomenon. Mobile express applies instrumental analysis, compression and acceleration technologies upon the last mile of network. Mobile Express also improves the speed of communication more than twice by SDK. And it makes mobile apps overcome the limit of TCP communication.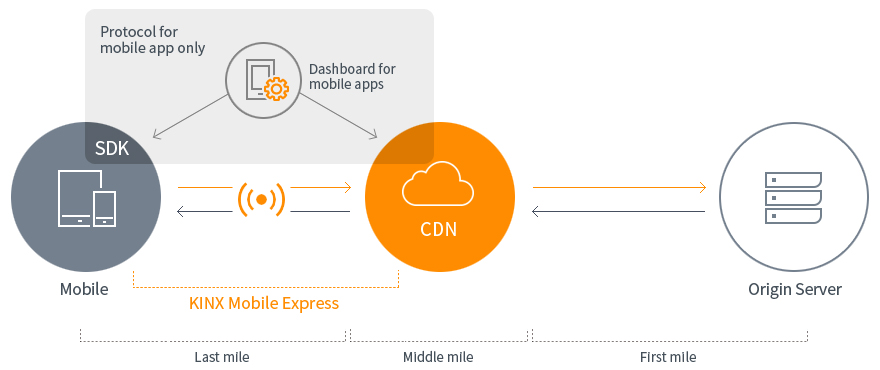 Effects
Faster delivering speed
Mobile Express delivers contents much faster. Mobile App improves the speed more than twice.

Decreasing Network cost
By compressing and cutting the size of contents, and by lessening the amount of traffic, it cuts the cost of network.

Mobile Optimization
It's not necessary to make mobile web site. Mobile Optimization helps PC interconvert with mobile without any expense.

Analysis for the environment of mobile connection
It can analyze the connection log of mobile and monitor the contents of App.

Functions
Acceleration of static&API/dynamic contents

Edge server networks with original server much faster in mobile network/WiFi than in TCP/HTTP. By lessening the number of communication, it accelerates in the mobile environment where has frequent connection breaks.

Contents acceleration of external network

It accelerates the download of advertisement (image of video) in external network.

Performance control

If problem occurs, it can take an action immediately using the management monitoring/ controlling functions which manage the performance of mobile apps.

Text compression

By compressing the text, it improves the speed of response and decreases the amount of data when user accesses to mobile devices.

Re-sizing the image

It adjusts the image according to connector's devices and delivers. By reducing waste of capacity, it improves the speed.

HTTP/2

By applying HTTP/2(Hypertext Transfer Protocol Version 2), it guarantees much faster internet environment..
Feature
Optimization of transmission

It decides the way of transmission by comparing the web protocol which works in mobile network. It controls the factors of time delay in the mobile environment such as network type, waiting time for connection, throughout, packet loss.

Smart cache

It lessens the time of communication between mobile app and the edge&original server, and by doing this deliver the contents much faster.

Session guarantee

It controls wireless communication from mobile device to the first hop of internet. Through this, it can manage the session interruption better and minimize the break of communication because of the break of connection.

Network Back-up

It replaces the original network when user can't use mobile express because of the problem of user's devices.
Performance Comparison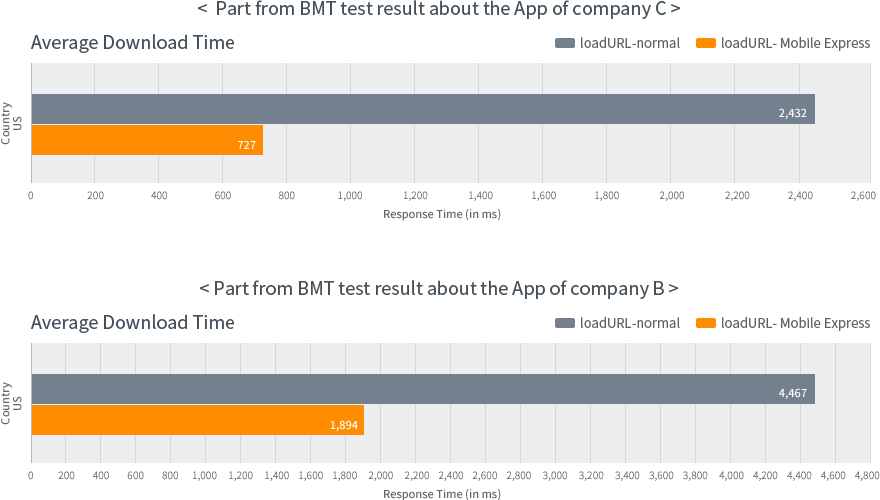 For inquiries regarding
Mobile Express