Guaranteed performance for your global service
Who needs it?

In need of providing its web/mobile services globally

In need of operating web pages over the world
Company who suffers from network delay at certain location

Company who requires faster service without any delays or outages
Global CDN is

To deliver web/mobile contents over the world requires high network performance.
KINX' Global CDN service is the most suitable service that offers the best availability and reliability for global service through its edge servers spread across the world.

Effects
Exceptional cost-efficiency
KINX offers optimal delivery performance at the lowest cost.

100% service availability
In case of rapid increase of log-ins, multiple edge servers share the load and provide seamless service without any delay or outage.

No commitment
KINX does not ask for any commitment for usage. We only charge based on how much transfer volume they actually used.

Global service guaranteed
Through one simple configuration, customers can deliver their contents to the world in optimal ways.

Functions
Optimal performance guaranteed through KINX global edge servers


We guarantee the fastest delivery performance by utilizing our numbers of global edge servers located across the world.

Load balance


Users can enjoy your contents from the nearest KINX edge servers faster.

Stats and analysis report


Customers can check their transfer volume and number of hits from user portal in real-time.

Easy configuration


Customers can start their service by simply type in and configure their domains.

Auto-Purge


Any changes in customers server will be synchronized with edge servers via auto-purge function.

Easy to manage number of accounts


Customers can open sub-accounts and manage them at once from the main account.
China Direct-Connect

Due to the drastic increase of demands for the reachability to China, companies search for solutions to enhance their network performance to China. By using KINX CDC service, your contents will be delivered from China Telecom's premium network, CN2, so that users in China can use your services seamlessly.
Meet KINX CDC, the only way to take advantage of high performing network to China.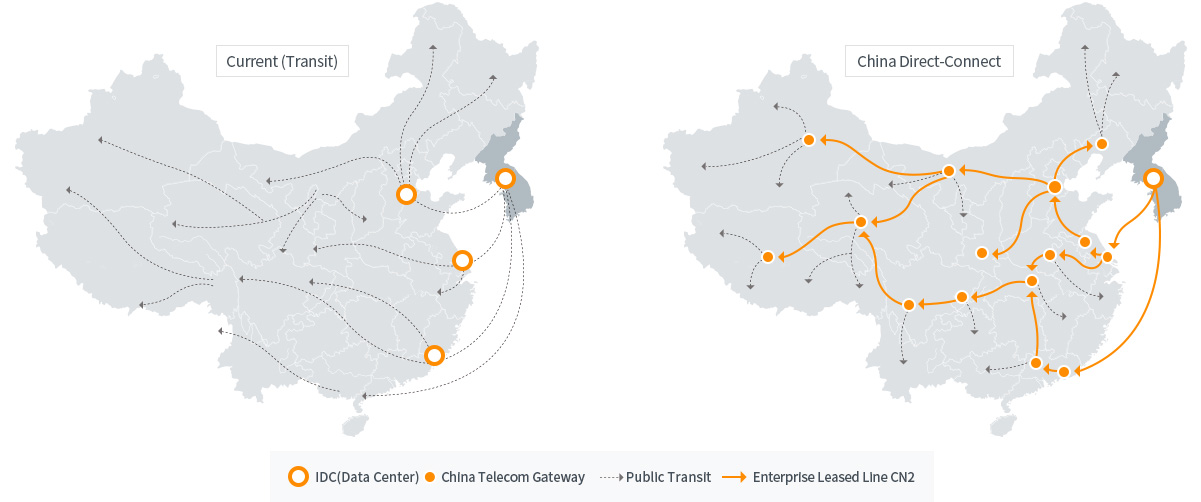 For inquiries
regarding
Global CDN