Portal Sites
Overview
According to the statistics on wireless traffic from MISP, the medium that generates most traffic, besides streaming, are web portal and SNS. Portal sites that focus on specific themes or "community-portals" are constantly seeking to improve its content, realizing that the increase of users will lead to the growth of the sites.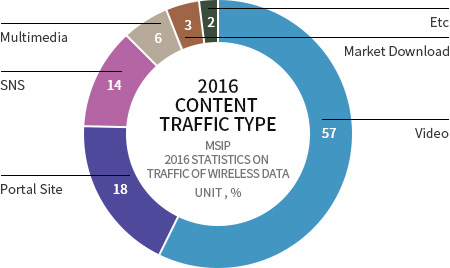 Thus, it is crucial for the portal sites to manage large volume of content and inbound traffic. Occasionally, certain content attract the users' attention. With more traffic, it is likely that outbound traffic and loading time will increase. The portal sites will need to have infrastructure that could deal with these issues and retain the users.
Moreover, global network solutions are required to deliver content to every corner of the world.
KINX provides cost-effective and global network infrastructure and solutions that could let you retain user and deliver content to the world.
Fast and reliable web and mobile content distribution
Seamless streaming solution for live Internet broadcast to end users
Cost-effective network solution
Connectivity with domestic and global carriers
Flexible and scalable infrastructure that could absorb traffic surge during events
Global network sourcing and planning capacity
Professional and customized consultation
Service Details
Meet KINX services

If you are
Content provider with enormous data
For inquiries
about
KINX Service