E-commerce
Overview
According to recent statistics, transaction in online shopping (12.3 trillion won) has surpassed that of offline shopping (12.2 trillion won). More than 40% of online shopping transactions are made on mobile devices. It demonstrates the importance of mobile devices in the shopping culture and the needs for different distribution and marketing strategy in the new era.
Distribution Channel Revenue
Source, Korea Statistics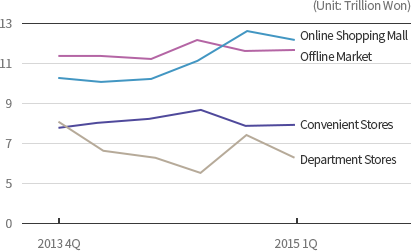 Rising Market Share of Mobile Shopping
Source, Korea Statistics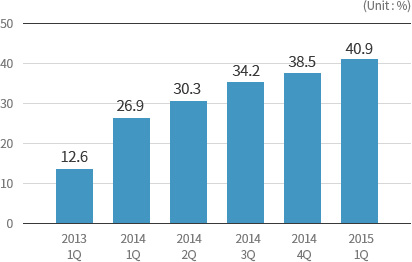 For e-commerce, showing relevant pages and pulling up accurate search results are essential in retaining customers. With the analysis of big data and personal preference, it must be able to recommend related products. The site loading speed and low packet loss are what affect not only the retention rate but also the credibility of e-commerce sites. KINX offers the solution and know-how to help you achieve those goals.
Minimum site loading time
Stable traffic management for web and mobile shopping
Flexible and scalable infrastructure that could absorb traffic surge during events or sales Global network
Flexibility and scalability of storage
Real-time purge for changing images
Stable network that could carry out online transaction without packet loss or response delay
Professional and customized consultation
Service Details
Meet KINX services

If you are
Shopping Mall with diverse content
For inquiries
about
KINX Service