Game, APP/SW
Overview
The size of the Korean gaming market is 10 trillion won. In terms of revenue in 2014, the market share of the Korean games in the world and Asia is 6.7% and 44.19%, respectively. The market share of the global online market is 19.1% behind China, and that of the mobile game is 14.3%. The explosion of the size of the mobile market is due to the spread of mobile devices.
The reason behind the growth rate of the mobile gaming market is because of the fact that new mobile games are flooding the market. Besides few popular apps, most mobile games hit their peak within a month and disappear from the sight.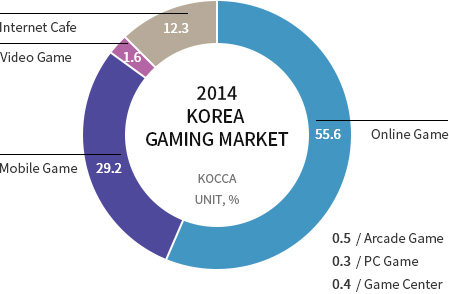 The quick turnover rate emphasizes the importance of agility of infrastructure to application development and management.
One prominent game publisher has developed and published its games on cloud since 2014, highlighting the importance of infrastructure in the success of games. Moreover, more publishers are developing and cooperating with global gaming companies or publishers from the beginning, requiring these companies to source global network and solutions.
KINX is not only providing download solution but also offers cloud and global network necessary for gaming companies to succeed in this rapidly integrating market.
Fast and flexible sourcing to deal with high turnover rate
Resource management that could minimize the infrastructure costs
Usage-based pricing system
Flexible and scalable infrastructure that could absorb traffic surge during events
Seamless integration with legacy system
Reliable storage to save game DB
Global network sourcing and planning capacity
Distribution of web and mobile game client and patch files
Professional and customized consultation
Case Study
Check how KINX and its customers solve the problems
Service Details
Meet KINX services

If you are
Small developer or application provider
Cloud Instance
Create virtual server and instance in a couple of minutes with KINX Ixcloud.
Cloud Volume
Permanent storage that could be used with instance. Decide the type, volume, and IOPS and customize to meet your needs.
CDN Game/File Download
Delivery content such as large game patch files or application in a stable, reliable manner.

If you are
Global game publisher
CDN Global CDN
KINX, with its edge servers and global network, delivers content to every corner of the world.
Network China Direct Connect
'CN2' lets you deliver content to Chinese cities without having to pay and host servers in China.
Network AWS Direct Connect
AWS Direct Connect allows AWS customers to establish private network between your network and AWS, improving quality, security while saving costs.
For inquiries
about
KINX Service